Dear valued clients,
Although we had previously communicated that we would re-open the office on Monday 17th August, we have taken the decision to remain working from home until further notice.
The decision wasn't taken lightly however as I hope you will understand, in the current environment with landscapes forever changing, we feel that we can serve you just as well from home without the added expense of opening the office and taking staff off furlough.
Raymond, Chandra, Jonathan, Jayne (Accounts) and myself are all still working full time in order to service any existing bookings or new enquiries you may have. We can be contacted on the below numbers.
Scott – 07969460013
Raymond – 07815041409
Chandra – 07552672644
Jonathan – 07999919080
Jayne – 07879897493
Although the office will remain closed until further notice, anyone who wishes to have a private face to face appointment can do so and we can meet you either at your home, the office or an alternative venue of your choice.
We really appreciate all of your support at this extremely difficult time and as soon as we are ready to reopen the office we will let you know!
Yours in travel,
Scott Parker,
Managing Director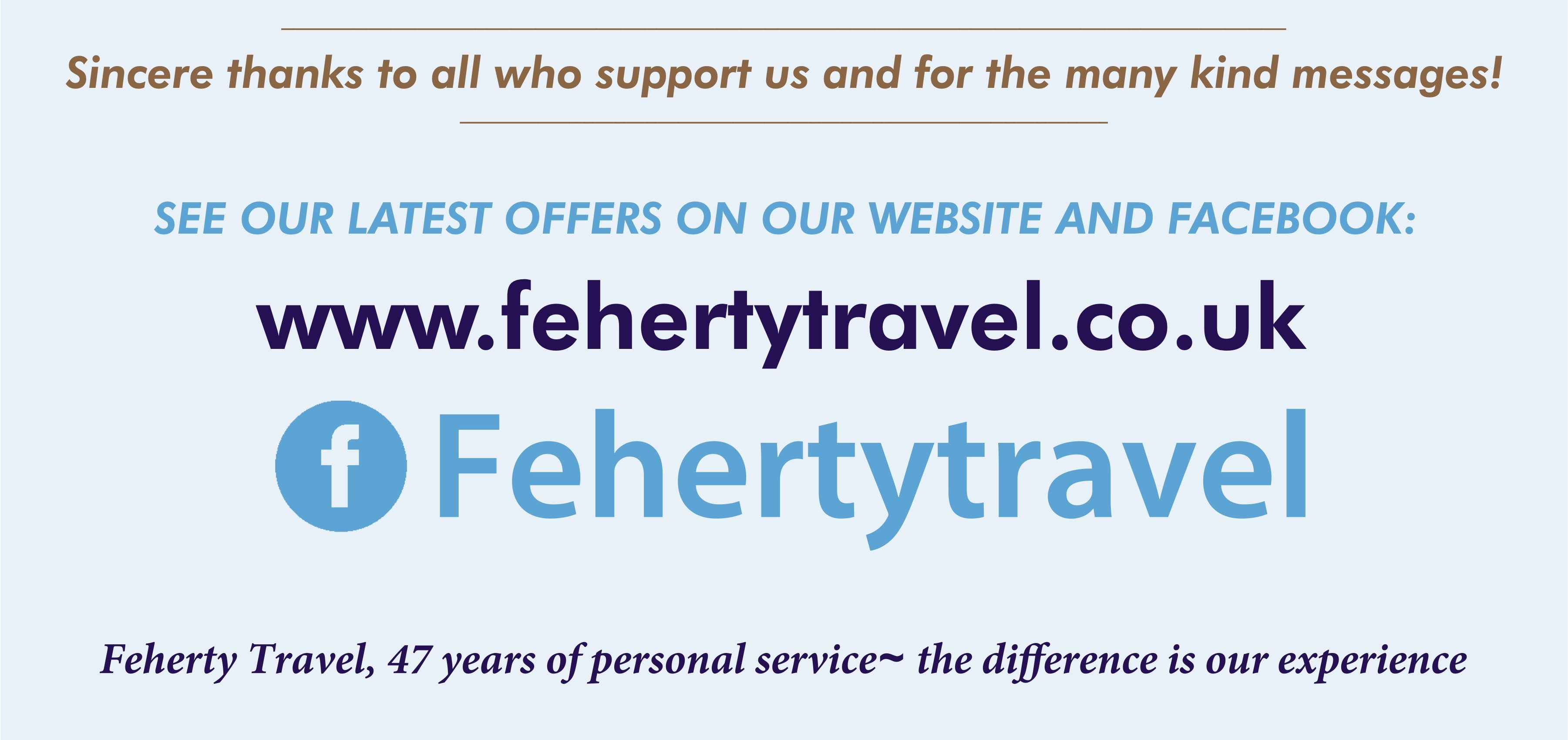 Your holiday time is very precious and getting it right is critical. 
Feherty Travel would be honoured if you were to share with us your expectations and allow us to use our extensive experience to create your perfect holiday.
Please contact us and let us do the work in building a dream for you. 
We only use companies who are reputable and reliable, and share a like mind in service and expertise.
We offer private appointments during or out of hours – in our office or in your own home if you wish.
Bangor's best travel company have looked after our holiday requirements for nearly 30 years. Customer service is absolutely first class!!
Like so many others, with the rapidly changing developments surrounding COVID-19, I found myself at high risk of becoming stuck on the other side of world in NZ. Jonathon and Scott from Feherty Travel were outstanding in helping to get me safely home on Tuesday evening. They worked continually around the clock in close communication with my dad to book me flights home via Dubai and London before borders were shut. I am extremely grateful to them and would highly recommend Feherty Travel to anyone wishing to travel with a travel agent in the future.
LATEST OFFERS
Discover our newest offers by clicking below
Have travelled many times and have never been disappointed with holiday itineraries that have been put together for us.
All responses will be sent via email. Emergency contact info and other contact information can be found on our CONTACT US page.