Every booking made with Feherty Travel in January will be entered into a draw to win a weeks accommodation for 2 in Tenerife at one of Spring Hotels 3 fabulous resorts – The Arona Gran, The Vulcano or The Bitacora on a Half-Board basis. 
We will also have a number of runners up prizes to give away!
Terms & Conditions
– to qualify your booking must consist of a package with a minimum of flights and accommodation
– qualifying bookings must be confirmed between 1st – 31st January 2021
Good luck everyone and Happy New Year!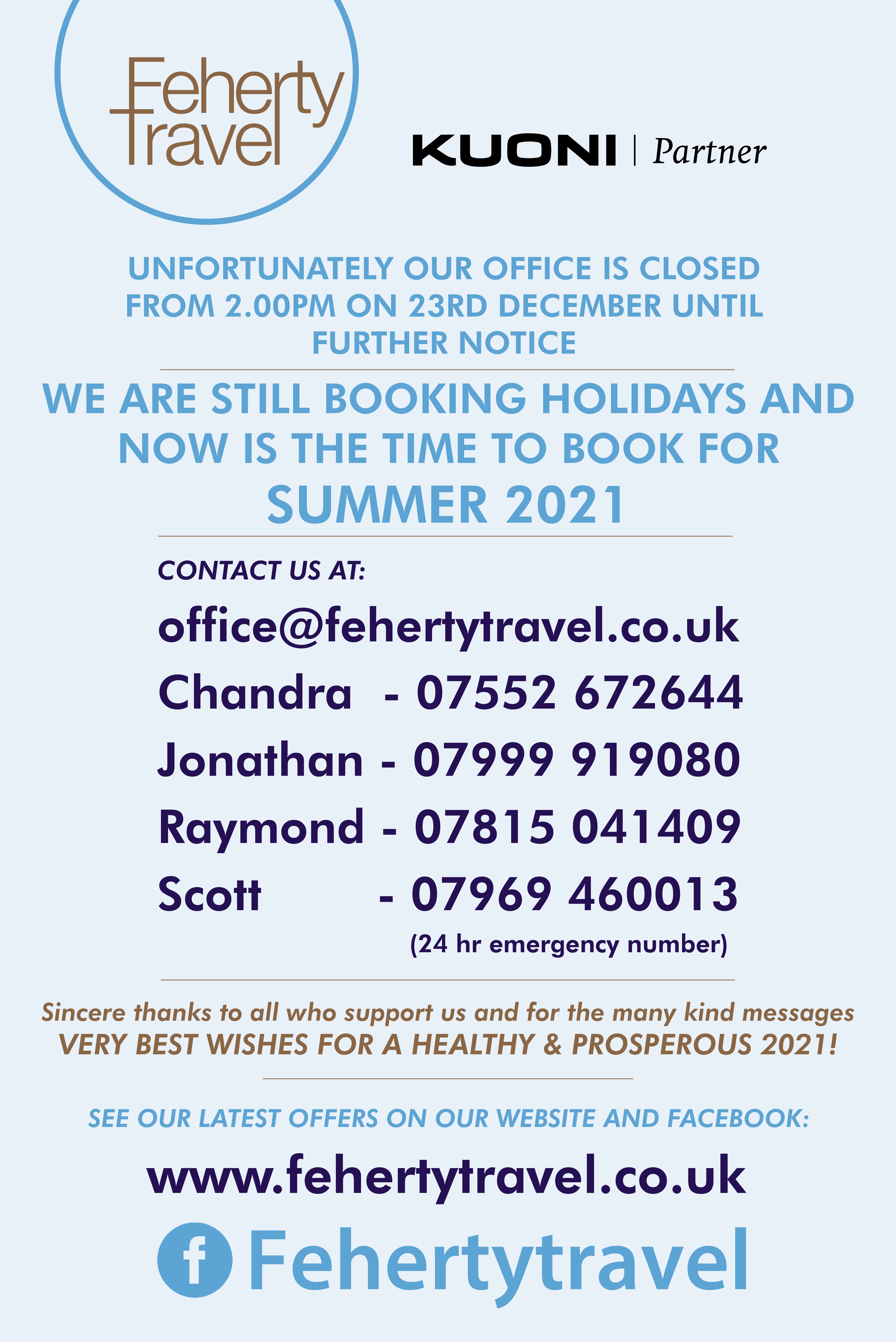 Your holiday time is very precious and getting it right is critical. 
Feherty Travel would be honoured if you were to share with us your expectations and allow us to use our extensive experience to create your perfect holiday.
Please contact us and let us do the work in building a dream for you. 
We only use companies who are reputable and reliable, and share a like mind in service and expertise.
We offer private appointments during or out of hours – in our office or in your own home if you wish.
Bangor's best travel company have looked after our holiday requirements for nearly 30 years. Customer service is absolutely first class!!
Like so many others, with the rapidly changing developments surrounding COVID-19, I found myself at high risk of becoming stuck on the other side of world in NZ. Jonathon and Scott from Feherty Travel were outstanding in helping to get me safely home on Tuesday evening. They worked continually around the clock in close communication with my dad to book me flights home via Dubai and London before borders were shut. I am extremely grateful to them and would highly recommend Feherty Travel to anyone wishing to travel with a travel agent in the future.
LATEST OFFERS
Discover our newest offers by clicking below
Have travelled many times and have never been disappointed with holiday itineraries that have been put together for us.
All responses will be sent via email. Emergency contact info and other contact information can be found on our CONTACT US page.